H'ors d'oeuvres
Not so Traditional Deviled Eggs   $1.50 Traditional deviled eggs with a variety of fillings including capers, fresh herbs, salmon, and chutney.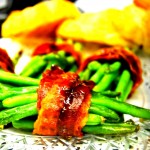 Prosciutto wrapped Asparagus  $2.50 Fresh Asparagus wrapped in prosciutto ham and glazed in brown sugar.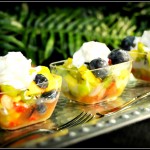 Fruit Salsa and Cinnamon Chips  $2.00 Finely diced seasonal fruit such as kiwi, strawberries, and oranges served with homemade cinnamon chips.  
Roasted Potato Skins  $2.00 Roasted potatoes sliced and loaded with shredded Colby Jack, Hickory Bacon, and sour cream.    
Tea Sandwiches  $1.95 Chicken Salad, Honey Glazed Ham, Oven roasted Turkey on either mini croissants or sweet roll.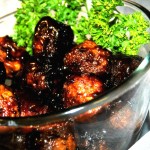 Sweet BBQ Meatballs  $2.00 2 oz bite size pieces served in a specialty BBQ sauce.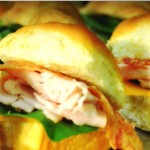 Gourmet Petite Sandwiches  $2.50 A selection of finer meats including pork tenderloin, salmon, grilled chicken, and pulled pork.  Breads will include sweet roll, pumpernickel, and French roll.  
Duchess Garlic Potato Bites  $1.25 Mashed potatoes seasoned with garlic and cheese piped into spirals and baked to create bite size crispy potatoes.          
Stuffed Olives  $1.00 Green pitted olives filled with pimento, cheese, and peppers.  
Pasta/ Potato Salad Cups  $1.75 Assorted pasta and potato salad served in individual portions.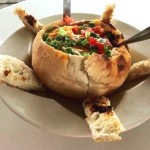 Spinach and Artichoke Dip  $2.00 Sautéed spinach mixed with cream cheese and marinated artichoke hearts.  Seasoned and served in a breadbowl.  Available as hot or cold dip.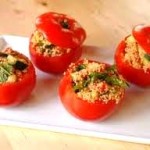 Assorted Stuffed Veggies  $2.50 Assortment of veggies ( cucumber, tomatoes, peppers, mushrooms) stuffed with cream cheese, Ranch salad mix, or three cheese blend.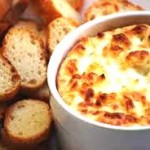 Onion Soufflé  $2.50 Warm dip served with a basket of crackers, breads, and chips for dipping.  
Cheese stuffed Ravioli  $2.25 Ravioli stuffed with Italian cheese blend.  Served with a hearty marinara sauce.  Available as  toasted crunchy snacks or fresh.
Hummus with Pita Chips  $1.95 Traditional and Roasted Red Pepper hummus served with Pita chips. Grilled Smoked Sausage Chunks  $2.25 Smoke sausage grilled to seal in the flavor.
Flamboyant Fruit Display  $2.75 Fresh cut fruit served around a decorative centerpiece.  Includes Chocolate mousse and pina coloda fruit dip.
Cheese Display  $2.95 Artisan Cheese and crackers on a woodblock for guest to build their own snack. Olives included to top off this snack.
Mushroom Caps  $2.75 Baked Mushroom Caps stuffed with crab meat. Ocean Salad Tarts  $2.75 Phyllo pastry cups and wonton wraps filled with chilled salad mix of crab and lobster.
Coconut Shrimp  $3.50 Fresh cocktail shrimp with a crispy coconut outside.  Served with an orange marmalade sauce.
Chicken Kabobs  $3.25 Petite Chicken chunks marinated in a specialty mustard sauce; threaded on skewers with  peppers and mushrooms.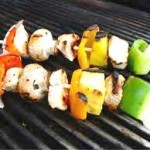 Hawaiian Skewers  $3.25 Mini Chicken kabobs with pineapple and cherry tomatoes served over a bed of rice.  A soy and brown sugar glaze is the secret to these being loved by all.
 Lobster Turnovers  $3.75 Golden Puff pastry filled with lobster and a spicy cream cheese spread.  Served warm. Jamaican Shrimp Platter  $3.75 Fresh shrimp tossed in a jerk seasoning and sweetened by a touch of honey . Displayed on a platter  with a mango and lime drizzle.
Pork Kabobs  $3.25 Pork tenderloin medallions broiled and then blasted with an apple reduction.  Individual servings paired with cinnamon apples and skewered for an easy party dish.